Skip Navigation
Website Accessibility
Packages
Want to add a memorable experience to your trip? We offer several fun, unique, professional, and local packages to add to your stay! From 5-star horseback tours across some of Virginia's most beautiful pieces of land to special add-ons for birthdays and anniversaries, from top-quality fishing excursions to pre-wedding parties, we have something to fit your special occasion! Don't see something that fits your dream get-away? Give Beth-Anne a call! She'll be more than happy to help create a one-of-a-kind package just for you and yours!
All packages are subject to availability. We partner with other local, small business owners who promise the best quality service. If the desired time and dates that you desire are not available, we will offer a full refund for the package.
Please call or text Beth-Anne with any questions you may have (571) 918-1268.
Horseback Vineyard Tour
(package for two)
Package includes:
horseback vineyard tour for two
complimentary wine tasting
Charcuterie Box for two
Indian Summer Guide Service is central Virginia's premier vineyard riding experience! Enjoy the views of the Blue Ridge on a private, guided horseback ride at the venue of your choice. Every ride is uniquely tailored to the group and terrain. Calm, trained, well-behaved horses will lead you through an unforgettable, unrestricted riding experience. Indian Summer Guide Service has built relationships with Charlottesville's finest wineries in order to offer guests access to some of the most breathtaking properties in the region.
Hop on the saddle with your significant other, your family, or your friends⁠—whoever you decide to bring, the experience is shaped around the desires of your group. Each of our private horseback rides is led by one of our knowledgeable guides, who will ensure your safety as well as your enjoyment.
After the ride, make your way to the tasting room to enjoy locally crafted wines or ciders. Each guest (21 and older) receives a full tasting from a knowledgeable employee of the venue. After your tasting, feel free to stock up on your favorites to drink at the venue or to take home!
Guests also will enjoy a charcuterie box filled with tasty items to enjoy after the ride!
Venues include: Glass House Winery, King Family Vineyards, Pollak Vineyards, Veritas Vineyard & Winery, Keswick Vineyards, Cunningham Creek Winery at Middle Fork Farm, Castle Hill Cider, and The Market at Grelen (some venues require food from off-site to be consumed outside the tasting room).
For groups larger than two, please call Beth-Anne directly to discuss options.
**All packages are subject to availability. If your desired time and dates are unavailable, we will offer a refund for the package. Please allow up to five days notice for any package.**
Restrictions
For the safety of our riders and horses, we have a 250lb weight limit. Good physical condition is a plus. Riders must be able to mount and dismount on their own, with a mounting block.
The minimum age is 12 years old unless the rider has 1–2 years of prior riding experience.
Riders will be given safety and riding instructions and must be able to demonstrate the ability to control the horse and be of their own physical ability to ride.
Policies
Closed toed shoes and pants are required.
Helmets are available but not required.
For the safety of all riders and horses, we do not allow you to bring your own horse.
Reservations are required as we only offer private rides. We recommend booking at least several days in advance.
Alcoholic beverages and smoking are not permitted on any of our rides.
No-shows or cancellations within 48 hours will result in the forfeit of your deposit and loss of your reservation.
Cancellation
We require a credit card to hold your reservation. If you cancel at least 48 hours prior to your scheduled ride, there is no charge. If you cancel with less than the required notice, fail to show up, or show up intoxicated, we will charge the full amount to the card on file.
Inclement Weather Policy
Our guides will have the final call in regards to the weather. We will not cancel for light rain, or extreme temperatures, so please check the weather and dress accordingly. Should we make the decision to cancel, you have the option of rescheduling and will not incur any charges.
Gratuity
Our guides are working long before and long after your ride begins and ends. They do their best to provide you with an unbeatable experience. If you had a great time on your ride, show your appreciation by tipping your guide.

Price of Horseback Tour and Wine Tasting TWO People
$500 (in addition to cabin rentals)
Flower Arrangement
Arrive at the cabin to find a beautiful, fresh-picked, seasonal arrangement of flowers by our local florist, Pharsalia!
Please allow five days notice to arrange for flowers in the cabin. Smaller bouquets are available.
Please call Beth-Anne for details and size options
(571) 918-1268.
Price of Bouquet
$75 + Tax
Romance Package
If you want to turn a memorable trip into an unforgettably romantic trip, this is the package for you and your other half!
You and yours will arrive at the cabin to find romantic candles flickering around a beautiful, local flower arrangement. Sparkling cider and gourmet chocolates will be left for you to enjoy together at your leisure.
Please allow a week's notice when booking the Romance Package as it takes time to schedule the flower arrangement.
Price for Package
$145
Guys Getaway
A weekend away with the guys in the mountains doing man things! Get the essentials without having to go out and get the essentials!
This package includes fine cigars for each guest, 40 logs for a bonfire to sit next to while enjoying your cigar, charcoal, lighter fluid and lighter for grilling out, whiskey glasses to take home, and use of corn hole boards and bags and Kan-Jam during your stay with us! The perfect hangout set up for a group of guys!
Please allow at least one week's notice when booking this package as it takes time to personalize the glassware.
Price of Package for 6 People
$150 (in addition to cabin rental)
Price of Package for 8 People
$180 (in addition to cabin rental)
Birthday Package
If you want to add an element of surprise to a birthday trip to the mountains, we can help!
You and your guests will arrive to find the cabin festively decorated for the occasion! A cake will be waiting with candles, balloons, cards and a personalized birthday gift from The Retreat at Crabtree Falls!
You'll get to choose either a chocolate or vanilla cake. You pick out the colors for the balloons and tell us what number of candles you'll need for the cake. Please allow five days notice for the birthday package.

Price for Birthday Package with Cake for 6
$55 (in addition to cabin rental)
Price for Birthday Package with Cake for 8
$75 (in addition to cabin rental)
Girls Getaway
Celebrating a friend getting married and thinking about a bachelorette party in the mountains? Or do you have a group of gal-pals you're looking to get away with? We've got the set-up you need!
Arrive at the cabin to find a mimosa bar with personalized champagne flutes for you and your ladies to take home! We will provide you with a cute setup that features orange juice, peach juice, grapefruit juice, sliced strawberries, fresh raspberries, and sliced oranges for you to mix and match to create your own wonderful mimosas! We can have the bar set up for you when you arrive or we can leave the goodies in the refrigerator for you to take out later (due to VA ABC laws, guests provide their own champagne).
Get ready to snuggle up around the campfire with your gal-pals because we also have all you'll need to get cozy and make s'mores! This package includes 20 logs and kindling to start the fire. We will provide you with Hershey's chocolate bars, graham crackers, marshmallows, and roasting sticks.
End your evening with a little bit of R&R. Time for face masks and a chick-flick! We will leave individual face masks for each guest and a choice of timeless chick-flick movies will be waiting for your viewing inside the cabin!
Please allow at least a week's notice when booking this package as it takes time to personalize the glassware.
Price of Package for 6 People
$145 (in addition to cabin rental)
Price of Package for 8 People
$165 (in addition to cabin rental)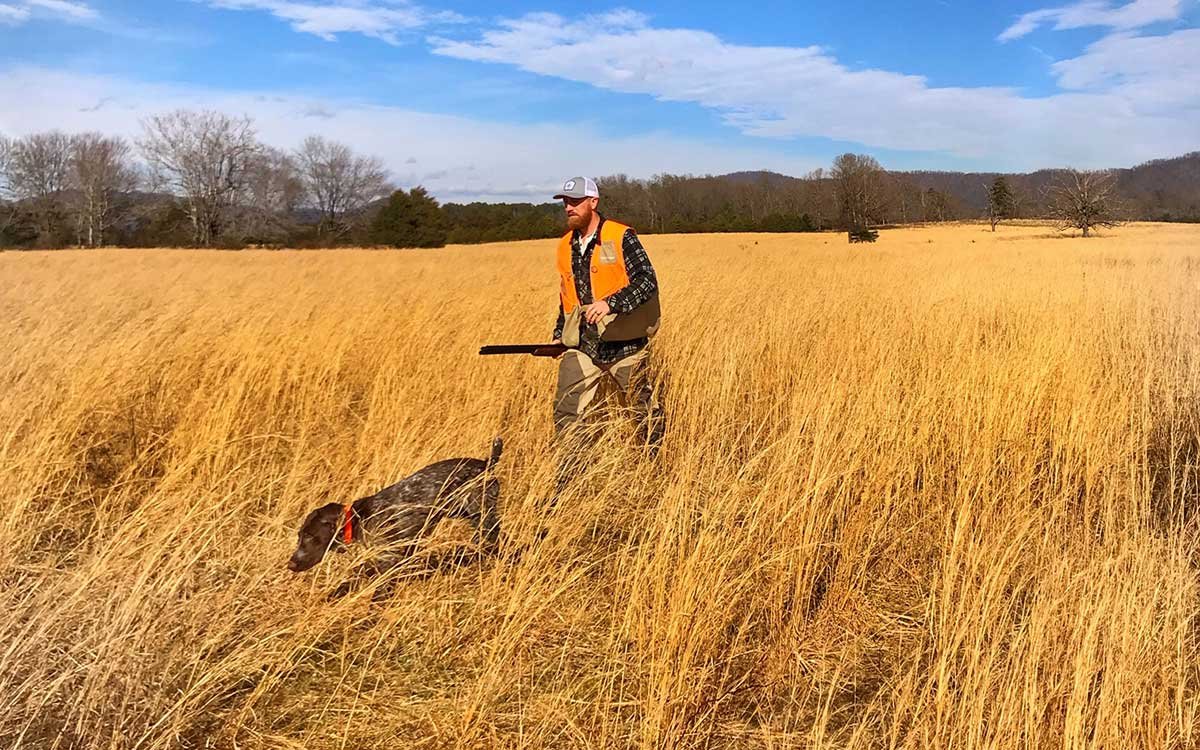 Bird Hunting Package
Come out and enjoy the full upland experience of trained dogs, fields of birds and exceptional views. Hunting season at PriestView is open from September until April on weekends and holidays only. This hunting preserve offers a variety of settings from flat fields to rolling hills and wooded areas, covering 460 acres!
PriestView Hunting Preserve is located at the foot of the Priest Mountain in rural Nelson County Virginia, only 15 minutes from The Retreat at Crabtree Falls. This beautiful preserve is a family owned and operated hunting preserve that developed from a family tradition of upland hunting and raising Brittanys and quail.
PriestView continues to provide the same relaxed, safe enjoyment for hunters of all levels of experience right in the heart of Central Virginia. Hunt quail, pheasant, and chukar using either your own dogs (unguided tour) or one of their talented guide dogs (a guided tour)! This is a perfect outing for friends and/or families!
Half-Day Hunt package includes (per hunter) either ten Quail OR six Chukar OR four Pheasant or a mixed bag in one of four fields.
Unguided Tour
$165 per hunter
Tour With Guide Dog
$165 per person plus a $50 guide fee for the party
Prices are in addition to cabin rentals (guide gratuity not included). Parties must be four people or less. For more avid hunters, memberships are available.